The magazine's 10th anniversary marks a decade of collaboration between lstw and Montréal microbrewery Brasserie Harricana, whose ties are rooted in their shared sense of community and mutual respect, admiration, and appreciation.
Not only are entrepreneurs Marie-Pier Veilleux and Cynthia Santamaria of Brasserie Harricana passionate about brewing, they're also actively involved in the LGBTQ2I+ community. Aiming to support local initiatives that have a positive impact, the brewery contributes to a number of local and regional events.
It all started back in 2014, when lez spread the word was founded and Harricana's No.12 beer was created. Initially released as a limited edition, No.12 was front and centre at the 2016 launch party for the very first lstw magazine at Never Apart, just a stone's throw from the brewery.
In 2020, as businesses shuttered in the wake of the COVID-19 pandemic, the collaboration took on an entirely new dimension as lstw and Harricana joined forces to build visibility and support with the joint launch of No.12 in cans and the fourth edition of lstw —a venture that caught the attention of Forbes! In 2022, Harricana and lstw are thrilled to be releasing the new No.12 lstw brew to celebrate ten years of lez spread the word and toast to lesbian and queer entrepreneurship!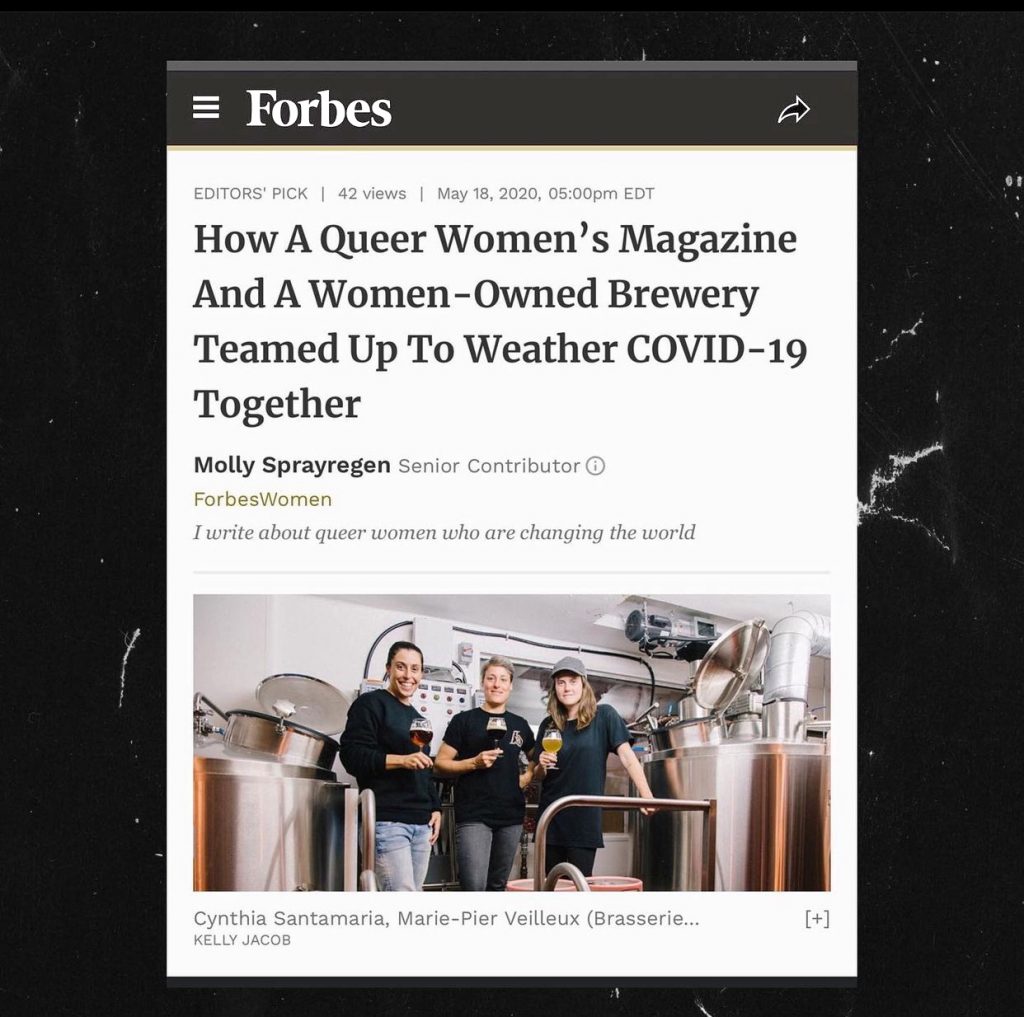 Interview with MARIE-PIER VEILLEUX
What motivated you to go into business?
In the 70s, my parents owned Brasserie Harricana in Amos, Québec. I was washing dishes in the restaurant when I was seven! It's where I grew up, and entrepreneurship is something that was instilled in me. After I graduated, I struggled to find my path in the corporate world. Restaurants were always on my radar, and I knew there was a gap I could fill with a good space, a good menu and good service at a fair price. That's when the idea of relaunching Brasserie Harricana began to take shape. I wanted to create a relaxed and friendly place where people could have a drink and a bite to eat—somewhere coworkers meet up for lunch, for drinks or for a late-night snack. Above all, I wanted a fun and uncomplicated spot where I could serve simple and delicious dishes that suit professionals and families alike. That's why Brasserie Harricana is in Mile-Ex and our business hours are always the same: every day, from noon to 2 a.m.
What do you wish you would have known about entrepreneurship from the start?
The fact that entrepreneurship has no limits makes it both fantastic and challenging. Fantastic because I turned my passion for the restaurant industry into an amazing job that never feels like a job, and challenging because the unlimited possibilities can pull me in all directions. It can also get very lonely if you don't build a solid team. Entrepreneurship makes you lose sleep, forces you to embrace change and leads you to constantly question yourself.
What are you most proud of?
I have so many amazing moments and memories in mind, but seeing my beer in a convenience store refrigerator was really mind-blowing. And so is every great photo of Harricana beer taken by customers outside the restaurant. I'm also so proud and moved to see Brasserie Harricana team members grow and gain experience.