Ever since Sarah White and Denise Taschereau got Fairware off the ground in Sarah's garage way back in 2005, the pair has remained grounded in one fundamental concept: staying inherently true to their values. Through their passion for sustainability, social justice ethos and identities as a queer women entrepreneurs, they continue to challenge the traditional landscape of promotional marketing. Their enduring success can certainly be attributed to their dedication to showing up as their authentic selves and defying industry norms.
In her former role as the director of sustainability and community at Mountain Equipment Co-op, Denise saw countless organizations struggle to produce high-quality ethically sourced promotional material. While there has been progress over the years, Fairware, a certified B Corporation, remains an innovator in the sustainability space.
Today, seventeen years down the road, Sarah and Denise still represent a minority. Like their belief in environmental justice, their identities as queer women are essential to the authenticity that has driven their success. Denise and Sarah provide an answer to the question so many queer folks ask themselves: how can I show up as my authentic self, be taken seriously and fulfill my aspirations?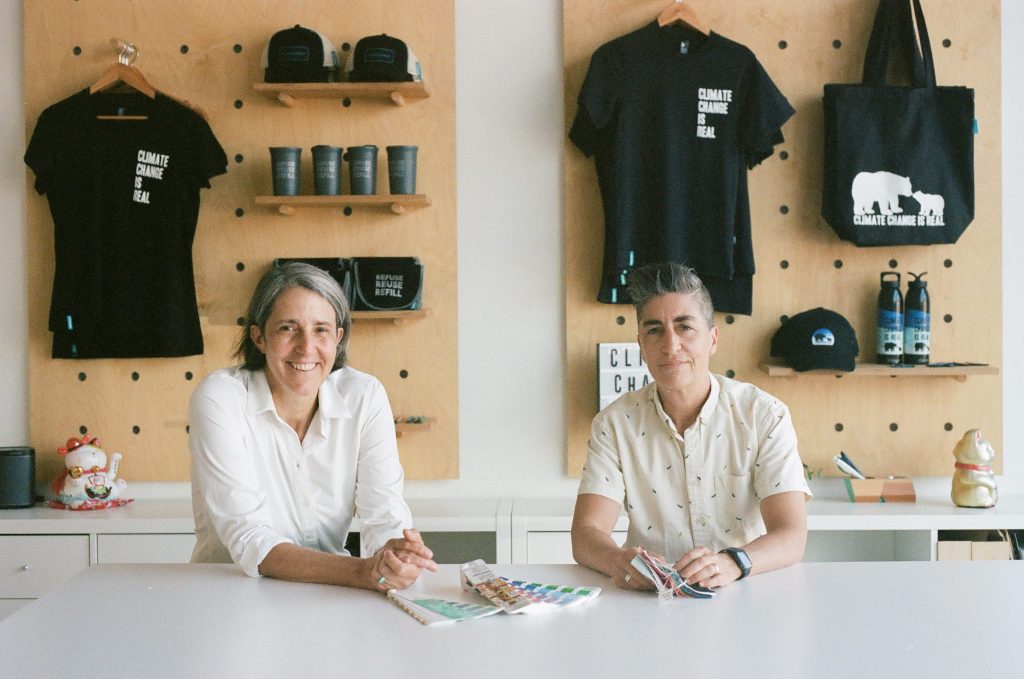 INTERVIEW WITH DENISE TASCHEREAU & SARAH WHITE
How would you describe Fairware?
SW: We're a tech-forward full-service custom merchandise agency and North America's leading distributor of sustainable and ethically sourced promotional products. We work with some of North America's coolest brands, supporting their campaigns for social and environmental change by amplifying their messages through sustainable custom merch. Because of what we stand for, we attract great people who are passionate about the work we do. We are a certified B Corp, LGBTQ and women-owned business.
Why did you choose to move into the sustainability space in the promotional marketing industry when you did? Why is that still important to you both?
DT: We've been committed to sustainability and ethical sourcing from day one. It's not a recent pivot for us. In the early 2000s, in my role leading sustainability at MEC, I saw great brands giving away questionable merchandise in terms of sustainability and worker rights. I realized there was a gap and thought it was a great business idea. Neither of us were familiar with the promotional products industry or knew anything about starting a business for that matter. Our idea was to create a promotional products company that made great merchandise and would drive change. That value and that commitment haven't changed or waivered, and now the industry is beginning to address the issues in their day-to-day business.
What impact has Fairware had on sustainability in the industry?
DT: We've been driving and advocating for change in the industry since the beginning, and we've seen our impact broaden. We're a go-to voice for podcasts, articles and conference presentations on the topic. More recently, I became a member of the Promotional Products Industry Association, which represents the industry in North America. With the recent aim to elevate the role of CSR, it was the right time to move into a greater role.
What do you wish you would have known about entrepreneurship from the start?
SW: I'm of two minds about that. I think many entrepreneurs have big, sometimes crazy, ideas that would never happen if they knew what they needed to know at the outset. If I knew everything I know now, who knows if I would have started? On the other hand, I may have spent more time researching the industry and how it worked before jumping in head first.
DT: I wish I'd trusted my intuition in the early days. I think we would have made bolder decisions faster.
What is your proudest moment in Fairware's history? What are your future aspirations as you continue to evolve the business?
DT: I continue to be inspired and am most proud of two things. The first is our clients: working with amazing people at brands like Patagonia, Ben & Jerry's, Vancity, Nature's Path, UNICEF USA and the Nature Conservancy of Canada is really motivating. And the second is our staff: we've built a great team that continues to challenge us to do better. They're a really awesome group and share our commitment to use our business to drive change.
How do you see yourselves reflected in the business in terms of your personal identities and values?
SW: We both have strong values related to social and environmental justice and are vocal about them. We tend to attract folks with similar values, so I feel like we're very much reflected in the business. We certainly bring our whole selves to work and, in doing so, hope to model that for everyone. It's a privilege to be business owners and not have to hide parts of ourselves. We have a platform, and we believe it's our responsibility to advocate for change.
What have you learned as queer women in this space?
SW: There aren't a lot of queers in this space, that's for sure. Especially queer women. There are no certified LGBTQ+ businesses on the industry supplier list. In the same way we've witnessed advancements in sustainability, there's also been progress on the social justice front. Of course, there's still more to be done. Staying true to who we are is important. Have we lost jobs because we are either queer or women? Probably, but it's impossible to know with certainty. I'd say that, in the last couple of years, it's come up much more in conversations with clients. They're asking for certifications, including B Corp.
By Paige Glabb