Announcing 11 celebratory days of the 17th edition of the Festival, Fierté Montréal reminds us that in a social context where the oppression of 2SLGBTQIA+ communities persists, the purpose of the Festival is more relevant than ever.
The Festival will take place from August 3 to 13 all around the city, including at the Olympic Park's Esplanade -Festival main site- as well as in the Village, Jardins Gamelin, the Montréal Casino, Le National, Société des arts technologiques (SAT), Club Soda and elsewhere. In addition to the Pride Parade along Boulevard René-Lévesque, Fierté Montréal is bringing back two Community Days that will take place on Sainte-Catherine Street East, in the heart of the Village.
Fifteen major free shows are planned with over 150 artists, 95% of them emerging from the sexual and gender diversity, who will perform on the stages of the biggest 2SLGBTQIA+ gathering in the Francophonie. Fierté Montréal's Programming Director, Chris Ngabonziza, has imagined a festival that showcases and celebrates artists from our local communities as well as from elsewhere in the world, by highlighting their creativity. He states, "We especially want to allow people to experience the magic of inclusion and diversity with this deliberate emphasis on emerging artists and artists of colour. Our allies are invited to the party."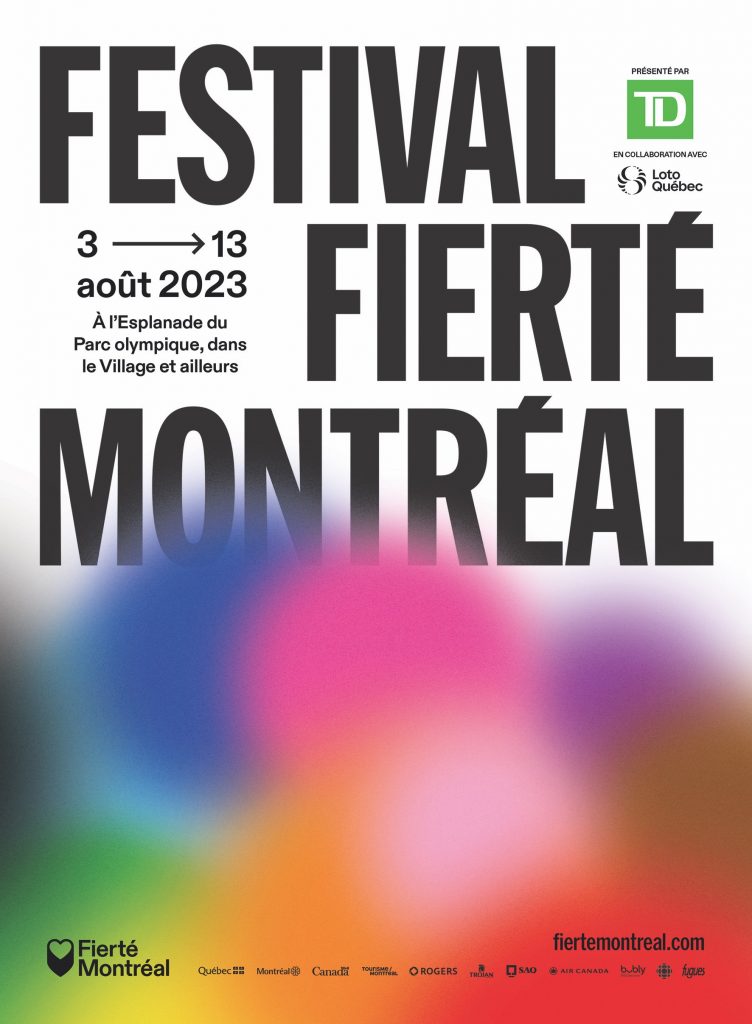 Kicking Off the 2023 Edition on August 3rd
The Fierté Montréal Festival 2023 will start at Jardins Gamelin, on Thursday, August 3, with an Opening Ceremony featuring Indigenous artists, followed by a free dance party in collaboration with the Glitterbomb collective. The evening will then proceed with a big comedy show, "Me joke-tu?" at the National, in the Village, hosted by the Acadian drag artists Sami Landri and Chiquita Mére, and showcasing local queer comedians.
A Festive First Weekend
Afficionados of musical diversity will revel in an original show on Friday, August 4, at the Jardins Gamelin with XoXo, a concert showcasing a range of musical styles going from pop to rock and R&B. In the meantime, Barbada and her friends will be at the Pride Party for two consecutive at the Montréal Casino (free admission). On the same Friday, three parties well-known to the 2SLGBTQIA+ communities will enchant all night owls with special Fierté Montréal editions of Ellelui, a lesbo-queer and trans party at Club Soda; Them Fatale, a queerlesque show at Le National; and Pleasuredome, a party in collaboration with the Super T collective at the SAT's Satosphère. On Saturday, August 5, at Jardins Gamelin, a party to celebrate the trans community will be followed by a dance party with the Club Moune collective. At Club Soda, the "A Family Affair" Kiki Ball will explore biological and chosen families and their representation in popular culture, while nightlife-loving folks will be able to keep the party going at the SAT's Satosphère with the queer dance party UniKorn Fierté Montréal Edition. Then, on Sunday, August 6, we wrap up the weekend with Blush, a party that seeks to encourage intergenerational queer performance knowledge exchanges at Jardins Gamelin.
The Parc Olympique's Esplanade
August 9 will mark the opening of the Festival's main site, the Olympic Park's Esplanade, with the show ImmiX, presented by ICI Musique on the TD Stage. The show will feature Édith Butler, Lumière, Coco Béliveau, Klô Pelgag, Joe Bocan and many more artists, accompanied by Belle et Bum's legendary house band. On the Loto-Québec Stage, the evening starts with Drag'Opéra, a show where lyrical and drag artists will meet on stage to perform opera songs and musical theatre numbers. Then, Queer Songbook Orchestra, a chamber pop ensemble dedicated to using stories and songs to express, honour and celebrate the experiences of members of the 2SLGBTQIA+ communities, will perform alongside invited artists such as Safia Nolin, Martha Wainwright, and many more.
International Drag Aristocracy and the FeminiX Show
On August 10, the Drag Superstars show will bring together worldwide drag royalty together in a fabulous show hosted by Rita Baga. On the TD Stage, a wide variety of participants from various RuPaul's Drag Race franchises such as Jimbo, Gisèle Lullaby, Icesis Couture, Aquaria, Yvie Oddly, Heidi N Closet, Alexis Mateo, Envy Peru, Drag Couenne, to name only a few, in addition to many more famous drag artists. FeminiX, presented by Rogers, celebrates sexually-and gender-diverse women through the vibrant performances of BLK PRL (Sandy Duperval), JU!CE, Barbara Butch and Narcisse.
Showcasing 2SLGBTQIA+ Community Organizations
Community Days are back on August 11 and 12, on Sainte-Catherine Street East in the Village, allowing the public to meet a wide diversity of community organizations and groups, businesses, sports and sociocultural clubs involved with 2SLGBTQIA+ communities. This year, 40 community projects funded by Fierté Montréal will take place between May 13 and August 13 in an effort to highlight and take part in the work of these 2SLGBTQIA+ community organizations.
A Unique Night
On Friday, August 11, DistinXion, on the TD Stage, is a very special show featuring, among others, Aimé Simone – visiting Québec for the very first time -, the queer South African artist Nahkane, Mýa, known all around the world from her participation in the Moulin Rouge soundtrack, Vivek Shraya, a trans multidisciplinary artist of colour and Idman, a non-binary artist from Toronto. Then, Xcellence, presented by Ubisoft on the Loto-Québec Stage, will celebrate QTBIPOC communities with a variety of celebrated DJs known to bring the party in the queer Montréal nightlife year-round, like TEYKIRISI, Honeydrip, pony, A$H BANKS and San Farafina. For the first time this year, Fierté Montréal offers an After-Xcellence night, with DJ Karaba, Pierre Kwenders and KidCrayola at the SAT's Satosphère.
Celebrating Local Talent
On August 12, MajestiX, presented by TD and hosted for the second consecutive year by drag kings Rock Bière and RV Métal, will feature local drag artists. With SucceXion, presented by Fugues on the Loto-Québec Stage and hosted by the queen of queer nightlife Syana, the audience will be able to enjoy a show filled with the rising stars of the underground queer Montréal music scene along with their friends.
More Surprises to Come
Fierté Montréal will announce more events in the upcoming weeks.
www.fiertemontreal.com