How virtual reality could help queer women get the pleasure they deserve
I'm lying, buck naked, on a massage table in a room I've never seen before. Everything around me is white: the brick replace to my left, the light fixture above me, the shoji screen opposite me. The only people here are me and a brunette with pearly whites and short purple nails that complement my own lavender polish. She's in her birthday suit, too, and she's going down on me. Tangled up in her, I am rooted in place, content. But after five minutes, the scene ends and I'm jolted back to the real world, the weight of my clunky virtual reality (VR) headset suddenly apparent on the bridge of my nose.
I've been streaming a free video on PornHub; the largest porn site in the world, it's used by 80 million people every day. To access the company's special VR category, all I need is a $20 headset and my smartphone. The video I've selected—one of the many lesbian VR scenes featuring oral sex that exist—places Elle Rose, a Europe-based actor who's found additional work in VR porn, in front of me. But unlike traditionally directed porn, which provides the viewer with an intimate look at an act between others, the perspective in this video is my own. I am the woman beneath Rose. I choose what I want to see, where I will focus and how I will experience the scene. I am the centre of attention.
It's a stark difference from the plethora of male-centric lesbian porn widely available on the Internet. Instead, VR offers the revolutionary potential of a fantasy in which female satisfaction is at the core of the scene. The technology itself could be the queer alternative we've been searching for, a tangible means of taking pornography out of its heteronormative landscape and putting it in the hands of the very people searching for a new way to experience sexuality. Straight men may be the biggest consumers of Internet porn, but queer women deserve to see ourselves represented in a way we never have before: in charge of our pleasure.
*
Lesbian porn as we know it was born during the feminist sex wars of the 1970s and '80s—a rejection of the anti-porn sentiments brewing among some second-wave feminists, and a denunciation of mainstream porn. Lesbian-run production companies began popping up, portraying queer sexuality in raw forms: the use of dildos and harnesses, women in positions of dominance, genuine orgasms. But with the advent of Internet porn in the 1990s, depictions of lesbians having sex have usually depended on the direction and desires of men. In 2013, Valerie Webber, a researcher based out of Newfoundland's Memorial University, published a study about lesbian porn. One of her findings: the most popular videos often focus on male fantasies, namely the idea of lesbian sex as an experiment or a one-off experience. It is most often only within the realm of niche, or "alt," sites that queer women are able to find authentic portrayals of women having sex with one another. Because VR is a rather new technology—it became more widely accessible with the release of the inexpensive Google Cardboard viewer four years ago—many companies have opted to lm the kinds of videos that garner a mass audience. That phenomenon, when paired with lesbian content, means videos like the one featuring Rose in a solely girl-on-girl scene are far less common than those showcasing threesomes with men.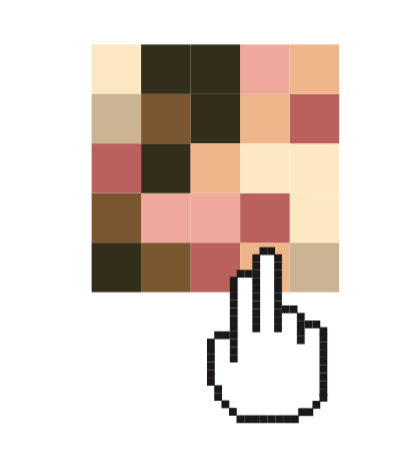 Data provided by PornHub shows that queer women are still in the minority when it comes to porn consumption. Of registered female users, less than one-quarter have marked themselves as interested exclusively in women. (About 44 per cent say they'll watch porn featuring both men and women, and trans users similarly don't discern between male and female performers.) However, VR could help shift the numbers. There are increasingly far more positive depictions of queer sex in non-VR porn, even if they're not present on the most popular streaming sites—and that means better porn overall. But VR technology itself provides something extra: it's point- of-view porn, putting the user in the position of a performer; active rather than passive, you are imbued with a certain sense of agency. And as the technology continues to develop, that POV perspective is further enhanced. For example, last year PornHub introduced interactive teledildonics to its VR roster, enabling compatible sex toys that can match the rhythms and movements of the performers displayed in the user's headset. Some companies that have invested specifically in VR porn are also working to make the playing field more equitable for LGBTQ+ consumers. While BaDoink, a site that specializes in immersive VR experiences, has traditionally made videos for straight men, the company has recently expanded its library of girl-on-girl videos that exclude male performers. According to Dinorah Hernandez, the site's head director and content manager, BaDoink has seen an uptick in female users as a result—17 per cent in 2017, up from just six per cent the year prior. There are also sites catering mainly to women, such as LezVR and YanksVR (the latter relies on amateur performers filmed by female producers). And at Kink.com's new VR outpost, a queer woman is at the helm.
*
All the people I interviewed share one common opinion: VR porn has a bright future. The technology is mesmerizing, interactive, straight out of a sci- lm. But there's plenty of room for improvement. While VR intends to immerse its viewers in a scene, I found myself accidentally knocked out of the fantasy on multiple occasions. If I craned too far to my left or right with the headset on, the set abruptly faded to darkness, reminding me that I wasn't actually with an attractive porn star but alone on my living-room couch. For videos filmed with a 360-degree camera, this is avoidable; but the equipment to do so remains costly, and many porn videographers still use wide-angle, 180-degree lenses that provide a limited range of motion for users. The headsets also tend to induce motion sickness—and nausea isn't sexy. These constraints are mere quibbles when compared with another, more pressing issue: I was only able to immerse myself in many of these scenes because I'm a petite white woman, with a body type that's predominant in most of the videos. The common fantasy of two thin white women fucking on screen might work from a traditional viewer's standpoint, but it falls apart in VR when you're a woman who deviates from that demographic. The lack of diverse bodies present in the current selection of VR porn is disappointing at its best, unwatchable at its worst. There are some creators attempting to address the imbalance. Toronto VR porn producer Holodexxx is experimenting with videos shot by hundreds of cameras and utilizing motion-detection software used by video game developers to create a completely customizable VR experience. The company hopes to develop "avatars" that can be changed for user preference. In time, technology may correct fundamental problems that exist for minority and marginalized users.
*
VR has taken something traditional and flipped it on its head, changing the way the world understands and consumes pornography. The potential is massive. It's cheap. Sites like PornHub have added closed captioning for deaf and hard-of-hearing users. For those living with disabilities, there's the possibility to enjoy porn hands- free. And for women, it's an escape from the porn that objectifies us. But it's clear that queer women still aren't the focus of the VR revolution. Perhaps producers have yet to even understand how we experience pleasure and the ways in which the technology could improve porn for us. A change may largely depend on the queer women in the industry itself—the women who grasp the need for better representation in all aspects of media, including the entertainment we use to get off. I've only returned to my VR headset a few times in the months I've owned it, curious about its capabilities but not nearly enough to use it regularly. Still, in those moments I've slipped it over my head and thrown myself into a world outside of my own, it's been a thrill—a glimpse into a future that could very well be incredible.
By Erica Lenti
Design by Harrison Fun