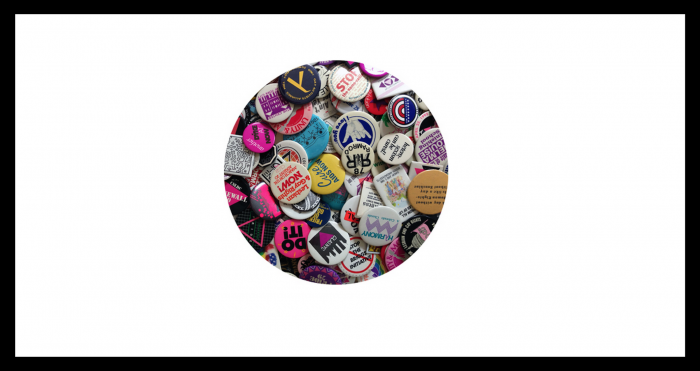 Since 1983 The Center has been supporting, fostering and celebrating the LGBT community of New York City. The Center fosters a welcoming environment where everyone is celebrated for who they are.
On our last visit at the Center in New York City, we discovered an interesting series by the artist Heather Cox.
Inspired by hundreds of political buttons from the 1960s to the present, she created new, custom-made buttons featuring eyes from miscellaneous photographs in the Visual Collection files as well as photographs she took of current staff of The Center.
« I have always loved archives; the musty, dusty, yellow-cracked-newspaper-smell of them. My first summer job at the women's college I attended was maintaining the dead alumnae file; a daunting row of file cabinets full of carefully-labeled folders. A majority of the files contained two newspaper clippings, one that announced the alum's marriage, and another of her obituary. This observation was an eye-opener for an 18-year-old lesbian contemplating art, gender, relationships and mortality in the midst of the AIDS crisis. »
« We now live in a digital world. Our news and correspondence is ephemeral, the vast majority of which is delivered electronically. The Gay revolution and the digital revolution occurred in tandem. Marriage laws are more inclusive. AIDS is still with us but it isn't a death sentence. We have all benefited from these enormous strides. »